Energoimpex offers a spectrum of precision cutting operations, from state-of-the-art technologies to tried-and-tested traditional sawing machines.
We can take laser cut parts from a selected Metal Partner, machine them to a silky finish and piece the parts into one functioning unit in our Metal Centre. In the process we take control of this synergism and bring out full-service production results, at scale and at low cost.
Take a look at our extensive portfolio of metal cutting possibilities. These include: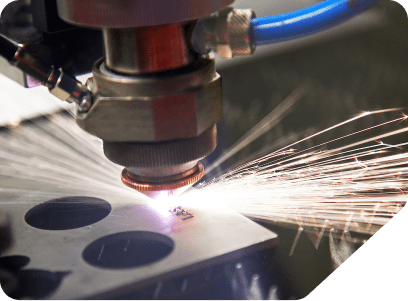 Laser cutting:
CO2 & fiber laser technologies
Sheet dimensions 2600x8150mm
Thickness up to 35mm
Tolerance +/- 0.1mm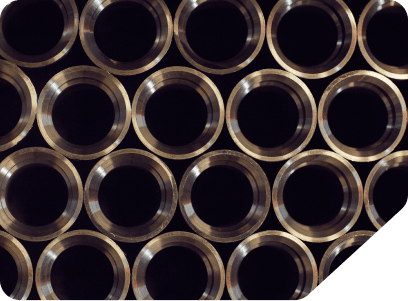 Tube laser cutting:
Max tube length 6000mm
Ø150mm
Plasma cutting:
Sheet dimensions 3000x14000mm
Thickness up to 150mm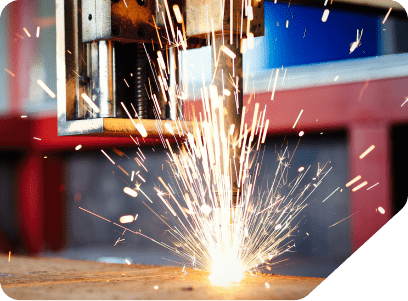 Flame/gas cutting:
Sheet dimensions 3000x14000mm
Thickness 55-200mm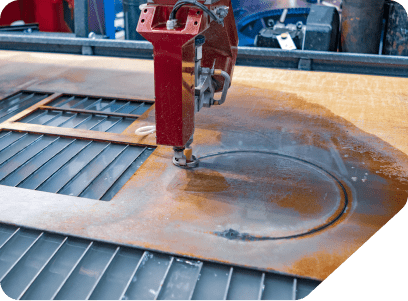 Waterjet cutting:
Sheet dimensions 3000x14000mm
Thickness up to 100mm
Laser cutting is the go-to and most used technique in regards to cost-effective and accurate results, specifically applied to thinner parts up to 35mm. 2D flatbed laser cutters safeguard precision requirements and ensure great efficiency even for the most complex geometries.
Depending on material and thickness specifications we can conversely offer gas or plasma cutting if the part under consideration exceeds 35mm in thickness and does not require an aesthetic finishing look. Resort to gas cutting when plasma is not a viable choice – it is advisable to use gas when the material thickness is over 50mm, but please note that this method is constrained to ferrous metal alloys only.
Waterjet cutting or hydroabrasive cutting is a non-thermal process unlike other cutting methods. It is rather a physical force of a high-pressure jet of water or a mixture of water with a sand-like abrasive material, capable of precisely splitting a wide range of materials, especially applicable to aluminium parts. It is the safer alternative compared to other cutting methods as fewer particulates are dispersed during the processing phase.
Most common materials available at Energoimpex for cutting technologies:
Stainless steel EN 1.4401 | AISI 316
Stainless steel EN 1.4301 | AISI 304
Low-carbon steel grades – EN 1.1141 | AISI 1018
Aluminium EN AW-6061
Aluminium EN AW-7075
Copper EN CW004A | C101
Order your cut parts with Energoimpex fast:
Free quote within 48 hours